March 8 2014 International Women's Day!
03/08/2014
March 8 2014 International Women's Day!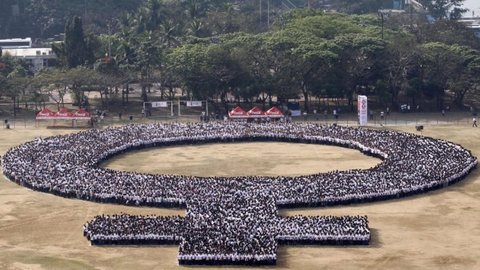 Dear Sister Broads, International Womens Day 2014 is celebrated round the world today! This show of FForce is from Manila. Check out this photo gallery of the day from Madrid, Istanbul, Bierut, Paris, Medelin and more.
Guerrilla Girls Broadband loves all protesters against violence against women around the world! Meanwhile in the USA violence against women expanded despite feminist fury: here's just one example - the closing this week of three more abortion clinics in Texas's poorest communities - some of the poorest in the whole country. This was the result of the latest round of spurious laws (yes, this back-street-abortion-promoting cut-back comes from rhetoric masquerading as safety measures) against heroic abortion providers. This was what Senator Wendy Davis tried to prevent with her famous feminist philibuster, and Texas Women rose up to support her and the abortion providers and YET strangely the laws got passed.
Fight back with forests of fun and fulmination! Down with anti-feminist rulers! The future is Hairy.
Love,
The Broads