Judy Chicago Fireworks Event: April 26, 7:30 to 8:15pm in Brooklyn
04/23/2014
Judy Chicago Fireworks Event: April 26, 7:30 to 8:15pm in Brooklyn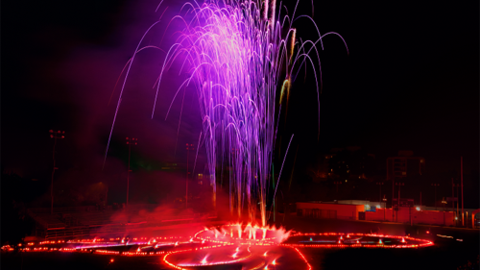 Judy Chicago gives new meaning to the word firecrotch this weekend in Brooklyn's Prospect Park with a 20-minute fireworks display resembling vaginas called A Butterfly for Brooklyn.
The show is both a 75th birthday celebration to the famed feminist artist and for her retrospective at the Brooklyn Art Museum, which permanently houses her Dinner Party installation. The retrospective called, CHICAGO IN LA: Judy Chicago's Early Work 1963-1974, will be on display in the Elizabeth A. Sackler Center for Feminist Art from April 4 to September 28, 2014.
The event is free to all park visitors, who can expect to see elaborate fireworks, thousands of road flares and miles of LED lights in Prospect Park's Long Meadow.
Event Details:
April 26, 2014, 7:30PM (Rain date, April 27)
Prospect Park, Brooklyn, NY
Supported by Barbara and Eric Dobkin