Equal Pay Day
04/11/2014
Equal Pay Day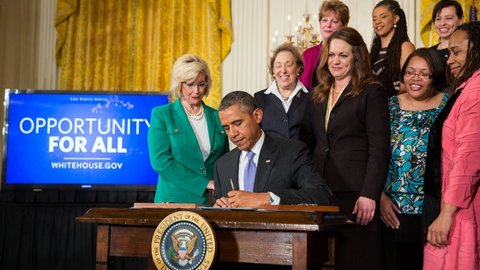 Tuesday was Equal Pay Day. Broads, do you know how much you are paid? But the more important question is: do you know how much your peers are paid in relation to you? A woman still only makes 77 cents to every $1 a man makes. In light of these facts, President Obama went ahead and signed two executive orders, which will hopefully pave the way towards smaller pay discrepancy and raise the minimum wage pay to $10.10 in government contracts/workers.
Unfortunately though, Senate Republicans voted down the Paycheck Fairness Act on Wednesday. The Paycheck Fairness Act would have required wage transparency for companies and protected employees from employer reprisal for investigating pay fairness.
If you want to know more about the wage gap watch this video by the Pew Research Center, which explain women's progress...or lack there of. And if you want to do more and get involved here's a link to the Equal Rights Advocates group.