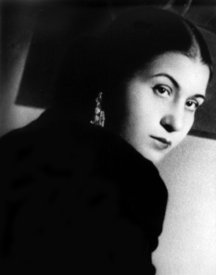 Umm Kulthum (aka Oum Kalsoum, Oum Kalthum, Omm Kolsoum, Umm Kolthoum, Um Kalthoom) was an Egyptian musician and one of the best known and most beloved singers in the Arab world. She was born in 1904 in Tamay-az-Zahayra, in the Ad Daqahliyah Governorate of Egypt, most probably on the 4th of May. Her father, the village imam, recognized her exceptional talent at a young age and taught her to chant the Qur'an, then began disguising her as a boy at age twelve so that she could perform with a small troupe he directed. By age sixteen she had attracted the attention of the singer Abu El-Ala Mohamed and the famous lutist Zakaria Ahmed, who asked her to accompany them to Cairo. Umm Kulthum waited until she was 23, however, to take them up on the invitation, and once arrived in Cairo maintained a tight control over public perception of her image and lifestyle, always remaining identified with her humble origins as a fallahah or peasant.
Umm Kulthum's key collaborators included the poet Ahmed Rami, who wrote 137 songs for her, and the lute virtuoso and composer Mohammed El Kasabji. She recorded some 300 songs, which range from the colloquial songs of her early career, to intimate and heartbreaking love songs, to the complicated "modern" qasâ'id that expressed the turbulent political climate of her times (for example the line "You cannot get want you want in this world by wishing; you must take it by force" from "Salû Qalbî") and for which she became most famous. In recorded versions, her songs last between 20 and 40 minutes; during her legendary monthly Thursday night concerts, the songs would become epic in scale, often stretching to an hour or more, while the concert as a whole extended from 9:30 pm to 2, 3 or even 4 in the morning, as her incredibly focused and intense engagement with the audience constantly renewed her interpretations of the music.
In the 1930s, Umm Kulthum toured the Middle East, and by 1948 her fame had reached such a peak that the radio broadcasts of her radio concerts were reputed to clear the busy streets of Cairo, Alexandria, Damascus, Baghdad, and Beirut, as people everywhere rushed home to turn on their radios. Around this time, Gamal Abdel Nasser, the future president of Egypt and a key player in the movement of Arab Nationalism, became an admirer of Umm Kulthum, and her support for his cause led to a mutually beneficial relationship where her popularity as a singer assisted his political agenda, leading to her becoming known as the "voice of Egypt." Nasser's official messages were often broadcast in tandem with her concerts as well as being unofficially echoed in her music. In the 1950s and 60s she expanded her role in Egyptian public life, in particular as an advocate for governmental support of indigenous culture and especially Arabic music, by establishing a foundation, acting as a spokeswoman for various causes, and performing "concerts for Egypt" across the region after Egypt's defeat in the '67 war, which took on the character of state visits.
After an intense relationship with a member of the Egyptian royal family in the 1940s which ended when King Farouk forbade their marriage, Umm Kulthum married a medical doctor named Hassen El Hafnaoui in 1953, taking care to include a clause in their marriage contract which would allow her to initiate a divorce if necessary. In 1967 she was diagnosed with a severe case of nephritis. She gave her last concert at the Palace of the Nile in 1972, moved to the United States for medical treatment, and then returned to Cairo, where she died on February 3rd, 1975.
Her funeral was attended by over four million mourners – even more than had swelled the crowd for Nasser's funeral five years earlier – making it one of the largest gatherings in history. The procession descended into pandemonium when the crowd seized control of her coffin and carried it to the mosque known to have been her favorite, before releasing it for burial.
Thirty years after her death, her albums still outsell many others in the Arab language, her voice is heard on the radio daily, and her influence resonates in music worldwide.
References:
Wikipedia article on Umm Kulthum
http://en.wikipedia.org/wiki/Umm_Kulthum
Listening to Umm Kulthum – Virginia Danielson, MESA
http://isanet.org/mesassoc/Bulletin/danielsv.htm
Umm Kulthoum – The Star of the East (with Real Audio song clips)
http://almashriq.hiof.no/egypt/700/780/umKoulthoum/
QuickTime video clip of Enta Omri performance
http://arabworld.nitle.org/audiovisual.php?module_id=5&selected_feed=156