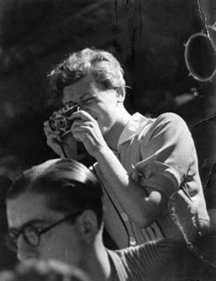 Gerda-Taro was born Gerta Pohorylle on August 1, 1910, in Stuttgart, Germany to a middle class Jewish Polish family. They moved to Leipzig just before the Nazi regime took over. In 1933, Pohorylle was arrested and detained for distributing anti-Nazi propaganda. Eventually, her entire family was forced to leave Nazi Germany toward different destinations. Pohorylle would not see them again.
Escaping Hitler's Germany, Pohorylle moved to Paris. In 1935, she met the photojournalist Andre Friedmann, a Jewish individual from Hungary, and became his personal assistant and learned photography. In 1936 to avoid discrimination, because they were both Jewish, Gerda came up with the idea to sell their photos under the pseudonym of Robert Capa (modeled after American director Frank Capra.) When this trick was no longer effective Friedmann kept the name for himself while Pohorylle changed her name to "Gerda Taro" after the Japanese artist Taro Okamoto and Swedish actress Greta Garbo. Together they covered the rise of the Popular Front in France and the beginning of the Spanish Civil War.
Later on, Taro struck off on her own to cover the bombing of Valencia. No longer with Capa, she was selling her work under her own name to publications such as Regards, Life, Illustrated London News and Volks-Illustrierte. In July 1937, she covered the Brunete region near Madrid for Ce Soir. When the Nationalist propaganda claimed that the region was under its control, Taro's camera was the only testimony that the Republican forces had in fact forced that faction out. In July 26, 1937, during her coverage of the Republican army retreat at the Battle of Brunete, Taro hopped onto the footboard of a car that was carrying wounded soldiers when a Republican tank collided into its side. Taro suffered critical wounds and died the next day. She is remembered as the first female photographer to die covering the frontlines of war.