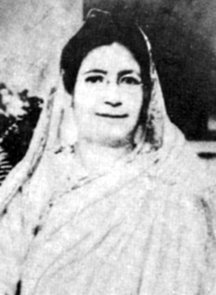 Hossain, Roquiah Sakhawat litterateur, educationist, and social reformer, who played a pioneering role in awakening Muslim women, was born on 9 December 1880 into a landed family of Pairaband in rangpur. Zahiruddin Abu Ali Haider Saber was her father and Rahatunnesa Chowdhury, her mother. Her ancestors served in military and judiciary departments during the Mughal regime. Named Roquiah Khatun, she is commonly known as Begum Rokeya in Bangladesh. Her name became Roquiah Sakhawat Hossain after her marriage and in literary circles, she was known as Mrs RS Hossain.
Roquiah's father was well versed in Arabic, Urdu, Persian, Bangla, Hindi and English. However, he held the conservative view of the time regarding women's education. He sent Roquiah's elder brothers, Mohammad Ibrahim Abul Asad Saber and Abu Zaigam Khalilur Rahman Saber, to Saint Xavier's College, Calcutta, but Roquiah and her elder sister, Karimunnessa, were not sent to school. Though Roquiah was not allowed to receive formal education, she learnt both Bangla and English with the help of her brothers. Roquiah's elder brothers and sister not only contributed to educating Roquiah, but also inspired her in writings. 

Despite her personal losses, Roquiah did not sit idle but started working for women's education and emancipation. The Muslim women of Bengal at that time were backward, neglected and oppressed. Roquiah realised that women could be freed from their shackles only if they were educated and became economically independent. Accordingly, on 1 October 1909, she started a school for Muslim girls at Bhagalpur with only five students, naming it after her husband, Sakhawat Memorial Girls' School. However, she could not continue at Bhagalpur for domestic reasons and decided to move to Calcutta. 


At Calcutta she set up Sakhawat Memorial Girls' School in a house at 13, Waliullah Lane on 16 March 1911 with eight students. The school was upgraded to Middle English Girls' School in 1917 and to High English Girls' School in 1931, all through the untiring efforts of Roquiah. The school was shifted to different places because of the increase in number of students and some other reasons. In 1931, it was at 13, European Asylum Lane, in 1932, at 162, Lower Circular Road and in 1938, at 17, Lord Sinha Road and Alipur Hastings House. The school got its permanent address in 1968 when it was finally shifted to its own house at 17, Lord Sinha Road. By that time, Roquiah ran the school for twenty-four years, braving harsh criticism and various social obstacles, and made it the best seat of learning for Muslim girls. At the seminal stage, only non-Bengali girls used to go to Sakhawat Memorial School. Roquiah worked hard to convince Bengali Muslim families to send their daughters to school. She went from house to house, persuading the parents that education was good for girls and promising that purda would be observed at her school. Her tireless efforts paid off, with middle class Muslim girls breaking the taboo against stepping out of the house to study. She also arranged horse-carriages so that girls could go to school and return home observing purdah.


Sakhawat Memorial Girls' School gave lessons in recitation from the quran, along with explanations, Bangla, English, Urdu, Persian, home nursing, first aid, cooking, sewing, physical exercise, music etc. Roquiah used to visit other girls' schools to see for herself the teaching methods employed there and how the schools were run. As there were not many competent female teachers at that time in Calcutta, Roquiah herself used to train the teachers she appointed from Madras, Gaya, Agra and other places. It was at her repeated requests that the government set up the Muslim Women Training School in Calcutta in 1919. She worked to ensure government funding and social patronage for the institute, enduring considerable criticism.

Roquiah realised that social injustices and extreme forms of purdah kept Muslim women backward. She knew that before women could be emancipated, people's attitudes had to change. In order to achieve her goals, Roquiah, who was skilled in writing fine Bangla prose, started using her pen to target social prejudices, religious bigotry and ignorance. Roquiah wrote in a number of genres, short stories, poems, essays, novels and satirical writings, developing a distinctive literary style, characterised by creativity, logic and a wry sense of humour. She started writing in the nabanoor from about 1903, under the name of Mrs RS Hossain. However, there is an opinion that her first published writing pipasha appeared in the Nabaprabha in 1902. Ever since she wrote regularly for the saogat, mohammadi, Nabaprabha, Mahila, Bharatmahila, Al-Eslam, Nawroz, mahe-nao, bangiya mussalman sahitya patrika, The Mussalman, Indian Ladies Magazine etc. 


Roquiah wrote on a wide range of subjects: social prejudice, adverse effects of the purdah system, women's education, social repression on women, women's rights and her progressive views of women's awakening. She also wrote against the tradition of childhood marriage and polygamy. 


Roquiah's writings called upon women to protest against injustices and break the social barriers that discriminated against them. Abarodhbasini (The Secluded Women, 1931) is a spirited attack on the extreme forms of purdah that endangered women's lives. Her other noted works include Matichur (essays lst vol 1904, 2nd Vol. 1922), Sultana's Dream (satire, 1908), Padmarag (novel, 1924). Sultana's Dream, which she later translated into Bangla as Sultanar Svapna, is a satirical piece, set in a place called Lady Land, a world ruled by women. The second volume of Matichur includes stories and fairy tales such as Saurajagat (The Solar System), Delicia Hatya (translation of the Murder of Delicia, by Mary Corelli), Jnan-phal (The Fruit of Knowledge), Nari-Sristi (Creation of Women), Nurse Nelly, Mukti-phal (The Fruit of Emancipation) etc. Roquiah also wrote fine poetry. Her poem titled 'Saogat' was published on the first page of the first issue of the Saogat in Agrahayan, 1325 (1918 AD). Many of her other poems and essays were also published in the magazine.


Roquiah left behind innumerable letters in Bangla and English. She had a respect for the Bangla language. Although Urdu was spoken by the aristocratic Muslims of the time including her own home she understood that Bangla, spoken by the majority of the Muslims of Bengal, should be her medium of expression. She mastered Bangla and strongly advocated its use at the Bangiya Nari Shikkha Sammelan (Convention on Women Literacy in Bengal) in 1927.

Roquiah is still remembered for her liberal thoughts, secular outlook and powerful writing. She spoke against the abuse of religious regulations that arrested the physical, mental and psychological growth of women in almost all her writings. In some of her writings, she advocated a concerted effort by men and women for social development. She also wrote on contemporary politics. Other luminaries of the period such as Sarojini Naidu, Lady Chelmsford, Lady Carmichael, Queen Sultan Jahan of Bhopal etc. spoke in praise of Roquiah and extended cooperation to her.
Roquaih was always vociferous against the subjugation of women in the Muslim society of Bengal. She led the movement for women's education and awakening towards the beginning of the first decade of the twentieth century, a time popularly referred to as the reawakening of the Muslims of Bengal. She broke out of the fetters of the purdah system and advocated women's emancipation. Her literary genius juxtaposed her organisational capabilities and helped her in the movement for women's education. She understood that nothing but education would emancipate Muslim women, and she worked towards that end with the intellect of a teacher, zeal of a social reformer and conscience of a humanitarian.
Roquiah Sakhawat Hossain is primarily remembered for her role in the women's movement in Bangladesh. She founded an organisation called Anjuman-e-Khawatin-e-Islam, or the Muslim women's society, in 1916 to make women aware of their rights. The society was in the forefront of the fight for women's education, employment and their legal and political rights. The society defrayed the cost of education for a large number of girls and arranged marriages for many poor girls. It gave shelter to orphans and the destitute and extended financial help to widows. It also established some businesses for women to earn economic independence. The society contributed greatly towards the development of Muslim women in Calcutta. Braving harsh comments and allegations from conservatives, Roquiah inspired women to join the society. 

The harbinger of Muslim women's awakening and emancipation, Roquiah lived for only 52 years. She died in Calcutta on 9 December 1932. Her legacy, however, lives on. Many women who were noted for their role in the women's movements in Bangladesh were Roquiah's students.