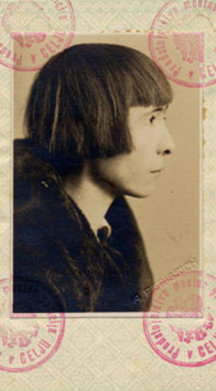 Alma Vilibalda Maximiliana Karlin (12 October 1889 – 15 January 1950) was a Slovene-Austrian traveler, writer, poet, collector, polyglot and theosophist. She was born in the Styrian town of Celje (now part of Slovenia) in what was then the Austro-Hungarian Empire as the daughter of Jakob Karlin, a major in the Austro-Hungarian Army, and Vilibalda Miheljak, a teacher. Her father died when she was eight years old. Alma grew up in a predominately German-speaking milieu, and regarded herself chiefly as Austrian rather than ethnic German or Slovene.
After completing her secondary education in Graz, she traveled to London, where she studied languages. She learned English, French, Latin, Italian, Norwegian, Danish, Finnish, Russian, and Spanish. In the later years, she also studied Persian, Chinese, and Japanese. She also spent six months in Paris, where she attended various language courses at the Sorbonne. It was at this time that she started work on her (unpublished) dictionary of ten languages, including Slovene.
At the outbreak of World War I in 1914, Karlin had to move to Sweden and Norway, since she was considered a persona non grata in the United Kingdom for being an Austrian-Hungarian citizen. It was in Scandinavia that she met the Swedish writer Selma Lagerlöf, who was so impressed by Karlin and her writing that she proposed her for a Nobel Prize.
In 1919, she returned home, to Celje, then already part of the Kingdom of Yugoslavia. Almost immediately thereafter, however, she started raising money for another journey. To this purpose, she opened a language school in Celje, where she taught up to ten hours a day, while her spare time was spent in painting and writing.
On 24 November 1919, she took off again, this time on a nine-year long journey around the world. She visited South and North America, the Pacific Islands, Australia, and various Asian countries. The last leg of her journey around the world was India.
In January 1928, at the request of her dying mother, Alma Karlin returned home, herself exhausted by physical illness and deep depression. She never traveled again. She devoted most of her time to writing. Around 1934, she started developing a keen interest in the study of theosophy. In the later years, especially during World War II, she became close to Roman Catholicism.
Karlin had chronicled her journey in hundreds of reports published in various magazines and newspapers, including the gazette of the Germans in Celje, the Cillier Zeitung, and the German newspapers Neue Illustrierte Zeitung and Der Deutschen Bergknappe. After her return home, she wrote numerous works of fiction and non-fiction. She wrote in German until the rise of the Nazi German regime, when she abandoned German as an act of protest. In Germany, her books were burned by the regime. She also wrote in English for the English-speaking areas. In 1937–38, the Franco-German journalist and writer anti-Nazi writer Hans Joachim Bonsack found refuge in her home.
Soon after the Axis invasion of Yugoslavia in April 1941 and the German occupation of Lower Styria, she was arrested and sent to Maribor where she waited for the extradition in Serbia, along with thousands of Slovenes. She was released thanks to the vigorous intervention of her lifetime friend Thea Gamelin. She could return to Celje, where she lived in house arrest.
In spring 1944, she decided to escape to the southern Slovenian region of White Carniola, which was controlled by the Slovene partisan resistance and to fly to the Allied-occupied town of Bari in Southern Italy. She did however not manage to reach White Carniola and stayed with the Partisans units active in the Province of Ljubljana. From there, she was transported to Dalmatia where she lived until the end of the war, when she moved back to Celje. She died on 14 January 1950, in the village of Pečovnik near Celje.
Almost inevitably, Karlin also became a collector and ethnologist. Most of the objects she acquired on her journeys she sent home, where she later set up a small private museum. Some of the exhibits are now housed in the Celje Regional Museum. Many of her writings have not yet been published; most of them are kept in the National and University Library of Slovenia and in the Berlin State Library.